Paul Wright, a second generation Hot Rod driver, (son of Bryan Wright) and multi champion 2 litre Hot Rod racer, thanks for taking the time to talk to us Paul.
Your father was a well known hot rodder  back in the 1970s racing under the number 43 which you have carried on using in your 2 Litre Hot Rod, tell us about your earliest memories of going racing. 
"My earliest memories of going racing were in the early 80s while my dad was racing at Wimbledon, I actually remember running up and down the corridors with all the other drivers' children and having a great time. Then when my Dad pulled out the tunnel I used to press my face up against the glass in the old stand to watch him. Wimbledon Stadium holds a lot of memories for me. The other track I remember clearly was Ipswich, being able to stand so close to the pit gate, you could almost touch the cars as they went round."
So maybe it's not surprising that you followed in his footsteps, tell us how you got started and your early career.
"When I was a school boy I started my racing on two wheels doing Moto-X at Slough Ace, I did that for a few years, but when I was 16 I had a bad accident on a test day and broke my pelvis. At that point my mum decided that the bikes were too dangerous, it was there and then that my dad decided he was going to build me a car instead. That car he built was a Mk2 Escort Hodge Rod for Ringwood, which we did for a few seasons in the early 90's. We then moved on to a lovely little formula called Economy Rods at Peterborough, I raced a Toyota Starlet with a 1600 cross flow in it, and that was where I met Chris Haird and his dad David, as they were racing down there too in their National spec Ford Focus.

"After a few years at Peterborough I really wanted to move on to 2 litre Hot Rods, and yet again my dad made it possible by helping me build the first English Peugeot 206 way back in 2000. I then made my debut at Wimbledon in it; it was a real shock to the system and a lot rougher racing than the Economy Rod. But we got our head down and eventually then built the Nova, it was a shape my dad and my godfather Jeff Simpson had always wanted me to have. I think that's when things really started for me in the formula."
You have had great success in the 2.0 Hot Rods, you have won many championships, but the big one has always eluded you, tell us about your big races.

"We have had some great times with the 2 litres; I think we have managed to win 21 championships over 20 years in the formula. The first one you win always feels special, which for me was the Best in Britain in 2006 at Wimbledon. Over the years I have gone on to win that title six times at various tracks including Birmingham on my wife's 30th birthday – that was a good one too.

"The World is the one I never managed to get my hands on and unfortunately due to finances we never managed to get over to Ireland when the World was held there, so that meant I missed out on quite a few chances. As I'm sure a lot of you know I did come very close to winning it, as close as two laps to go, which will probably haunt me forever but it just wasn't meant to be. The crank snapping in half is very rare but it happened to us, unfortunately it's just how racing goes sometimes, but you have to pick yourself up and look forward."
I guess racing a National has always been at the top of your dreams…

"I have followed the Nationals for as long as I have been watching racing and always wanted to race in them myself, they are the ultimate formula for me. Until a year ago Nationals was exactly that: a dream, and something that financially has always been out of reach for me. I still have to pinch myself now, as I can't really believe I have my own, it's mega!"

I remember watching you have a go in Jason Kew's Tigra a few years back at Birmingham wheels during a practice session, you were grinning like a Cheshire cat afterwards.

"Yes, I am very grateful to Jason, Kerry and Chris for trusting me to practise at Birmingham in the Tigra they had at the time, especially as they were going to race the car a few hours later at the meeting. As you can imagine it was exactly as I expected, fast and loud and I was just full of adrenaline when I got out of it. It's something I will never forget because at the time I never thought I would ever have my own."
So what made you change your mind about racing Nationals and how did it come about?

"I had completed my 20th year in the 2 litres and wasn't really enjoying it as much as I should have been. I think I had just been doing it too long. Me, my dad and Lucy (my wife), had often spoken about moving on to other formulas, but Nationals was the only other thing I ever wanted to do. Lockdown came along and we decided it was 'now or never'! I'm lucky to have a very generous wife that has wanted us to do Nationals just as much as I did, and when she suggested it I was never going to let her ask twice! So with her support we decided it was time to go for it."
Your new National was unveiled at Ipswich on the May bank holiday Monday this year, tell us about the car, where it came from etc.

"The car was originally built as a black Tigra for Lee Carlin and was at the NEC show a few years back, it was then bought by Thomas Dilly in Northern Ireland. Thomas did a handful of meetings in it and put it up for sale at the start of lockdown, so we couldn't get over to see it. However we were lucky enough to do a great deal with him and get the car shipped over to keep us busy while there was no racing. I stripped it down to the last nut and bolt, then built it back up myself, doing the set-up, stickers and everything I possibly could to get it to the standard it is now, and I am over the moon with it."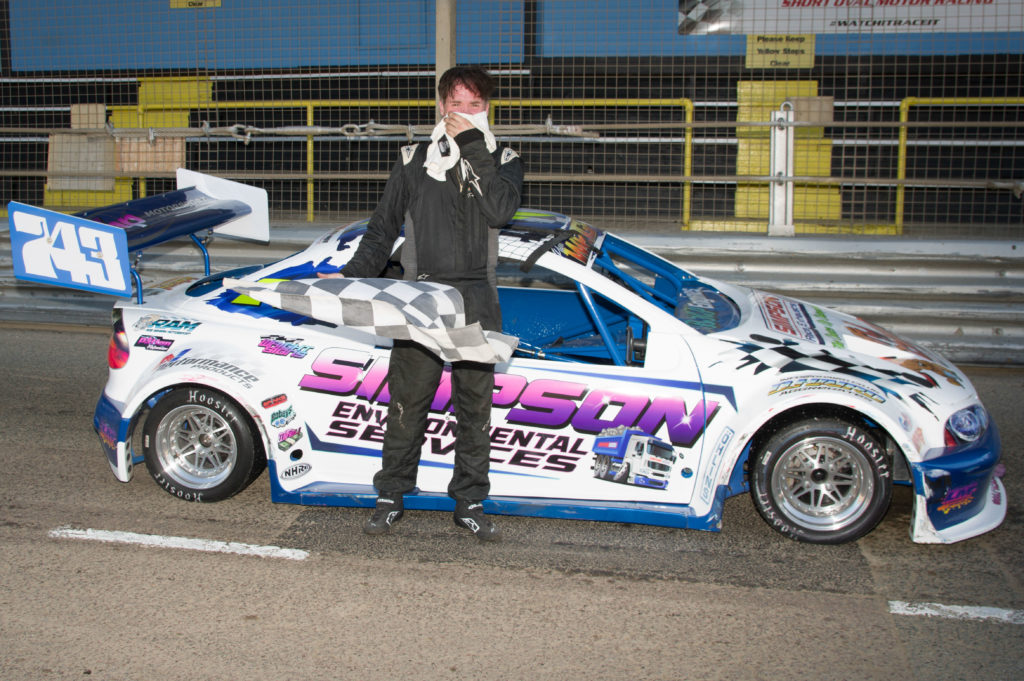 Did you get much practice in before you made your debut?

"Due to the weather being so bad leading up to racing restarting, we only managed to get two test sessions in, one at Birmingham and one at Swaffham. The first session at Birmingham was to do as many laps as possible and just try to get a feel for the car. The second session I tried to push a bit harder to get a bit more feedback, and just generally try to make it feel like "my car". After twenty years in one formula, I knew it would take some time for it to feel like mine."
You certainly made an impressive start at your first meeting, you crossed the line in third place in the first heat (but were docked 2 places), you then went on to win the second race and come home second in the final behind Billy Wood, that certainly was an impressive start, tell us about that day.

"It was the day my dreams came true! To be at Ipswich, which is one of my favourite tracks, with the sun out, and to win a race, it all got the better of me to be honest. I had a little moment to myself in the car after winning and just couldn't hold it in.

"Then to go out in the final and be rubbing arches with Billy Wood and Rob McDonald, I was just made up. Me and Lucy couldn't have asked for anything more, and to have all my friends and family there watching my debut and then to win a race……. I will never forget that feeling."
You have since competed in three more meetings and finished the 2021 points in an impressive 22nd place after just those meetings, so are you enjoying it and pleased you made the switch?

"I am enjoying it immensely! I know there will be tough times ahead and racing isn't always easy, but when things are good I need to try and enjoy it more. I am so glad I was able to make the switch, and it's everything I hoped it would be, National Hot Rods are proper!"
What are your plans going forward and what are your plans for the new season ahead?

"We are going to do as many rounds as the finances allow and learn as much as we can as quickly as possible. I will continue to work on the car every night just like I always have, chip away at it and never stop putting 110% into everything I do with my racing. I have to know I have done everything I can to give myself the best possible chance week in, week out."
Finally I am sure there are some people you would like to thank?

"Most importantly my wife Lucy and my dad Bryan, as well as all my friends and family for travelling up and down the country to support and help us with the car; I couldn't do it without them. Then a big thanks to Simpson Environmental Services, Simpson Race Exhausts, BHP Engines, SHP Engineering, Patton Performance and Joffey Bear Race Paints. Lastly I would like to say a big thanks to Deane and Janet Wood for supporting oval racing during the pandemic. We all love our racing and wouldn't be here without their commitment and financial support."
July 2021